București: Weekend la MNAC: Love art | De la albastru la roz. Pablo Picasso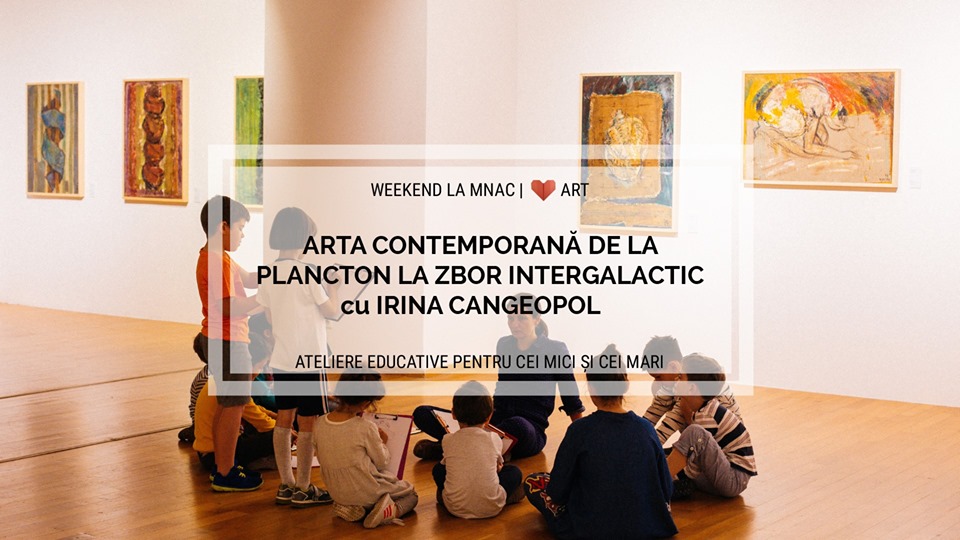 Please scroll down for English.
/RO: 🧡ART — Arta contemporană de la plancton la zbor intergalactic este o serie de ateliere care ne ajută să înțelegem expoziția Colecției MNAC, "Văzând Istoria. 1947-2007", dar și de unde vine și se hrănește arta contemporană, în general.
De la albastru la roz. Pablo Picasso cu Irina Cangeopol
Când: sâmbătă, 8 iunie, între 11:00-13:00, în limita a 20 locuri disponibile.
Pentru: copii cu vârste cuprinse între 5-12 ani.
Acces: 30 lei. Costul biletului include și vizitarea muzeului pentru adulții însoțitori.
Înscrieri via e-mail, la educatie@mnac.ro.
Considerat unul dintre cei mai mari artiști ai secolului XX, Pablo Picasso a lăsat lumii moderne și contemporane o imensă și versatilă operă, atât ca stil, cât și ca medii de lucru abordate: pictură, sculptură, grafică, ceramică, poezie, colaj, mărturie a 80 de ani de carieră artistică.
Sâmbătă vom urmări destinul artistic al micului Pablo, care se dovedește a fi total dezinteresat de școală, dar un desenator de geniu, ce își uimește în mod repetat profesorii prin talentul său. Născut la Malaga în Spania, fiu al unui pictor și profesor de artă, Picasso nu suportă rigorile academice ale învățământului artistic spaniol și pornește de unul singur în cautarea unui nou limbaj pictural, călătorind în Franța unde se stabilește la Paris. După perioada albastră și cea roz, din colaborarea cu pictorul Georges Braque se naște cubismul.
Vă așteptăm să aflăm mai multe despre fascinanta personalitate artistică a lui Pablo Picasso și să ne lăsăm inspirați de picturile acestuia, apoi să ne jucăm de-a artiștii cubiști, în pictură și colaj.
Irina Cangeopol este artist, profesor de artă și specialist în educație culturală prin arte vizuale, cu experiență în proiecte și programe destinate copiilor de toate vârstele. A coordonat proiectul de educație prin artă "Mișcare și culoare", laureat al Galei Societății Civile 2018, la secțiunea Artă și Cultură.
/EN: 🧡ART — Contemporary Art from plankton to intergalactic travel is a series of workshops to help understand the MNAC Bucharest Collection, "Seeing History. 1947 – 2007", as well as the sources that foster and nourish contemporary art, in general.
From Blue to Pink. Pablo Picasso with Irina Cangeopol
When: Saturday, June 8, between 11:00 AM-1:00 PM, in the limit of 20 available places.
For: children aged 5-12.
Access: 30 lei. The ticket price includes the visit to the museum for accompanying adults.
Registration via e-mail, at educatie@mnac.ro.
Considered one of the greatest artists of the 20th century, Pablo Picasso gave the modern and contemporary art world a large and versatile oeuvre both in terms of style and medium: painting, sculpture, graphics, ceramics, poetry, collage, a testimony of the 80 years of his artistic career.
On Saturday, we will follow the artistic destiny of little Pablo, who turns out to be completely disinterested in school, but a genius drawer who repeatedly amazes his teachers with his talent. Born in Malaga, Spain, as the son of a painter and an art teacher, Picasso cannot stand the academic rigors of Spanish arts education and starts looking for a new pictorial language on his own, traveling to France, where he settles in Paris. After the blue and pink periods, Cubism is born in collaboration with painter Georges Braque.
We're looking forward to learning more about Pablo Picasso's fascinating personality and drawing inspiration from his paintings, as well as experimenting with Cubist techniques in paintings and collages of our own.
Irina Cangeopol is an artist, art teacher and specialist in cultural education through visual arts, experienced in programs and projects for children of all ages. She coordinated the art education project "Movement and Color", laureate at the 2018 Civil Society Gala, the Arts and Culture Section.
Sponsor: vitamin aqua
Parteneri media / Media partners: Cărturești, GOKID.ro, SUB25, Super, SYT, Supereroi printre noi, Școala9, Totul despre mame.