Complexul Muzeal Național "Moldova" organizează activitatea de învățare "Special technology-aided modules designed to answer the needs of the visually impaired and of the persons with hearing difficulties", 16 – 18 mai 2022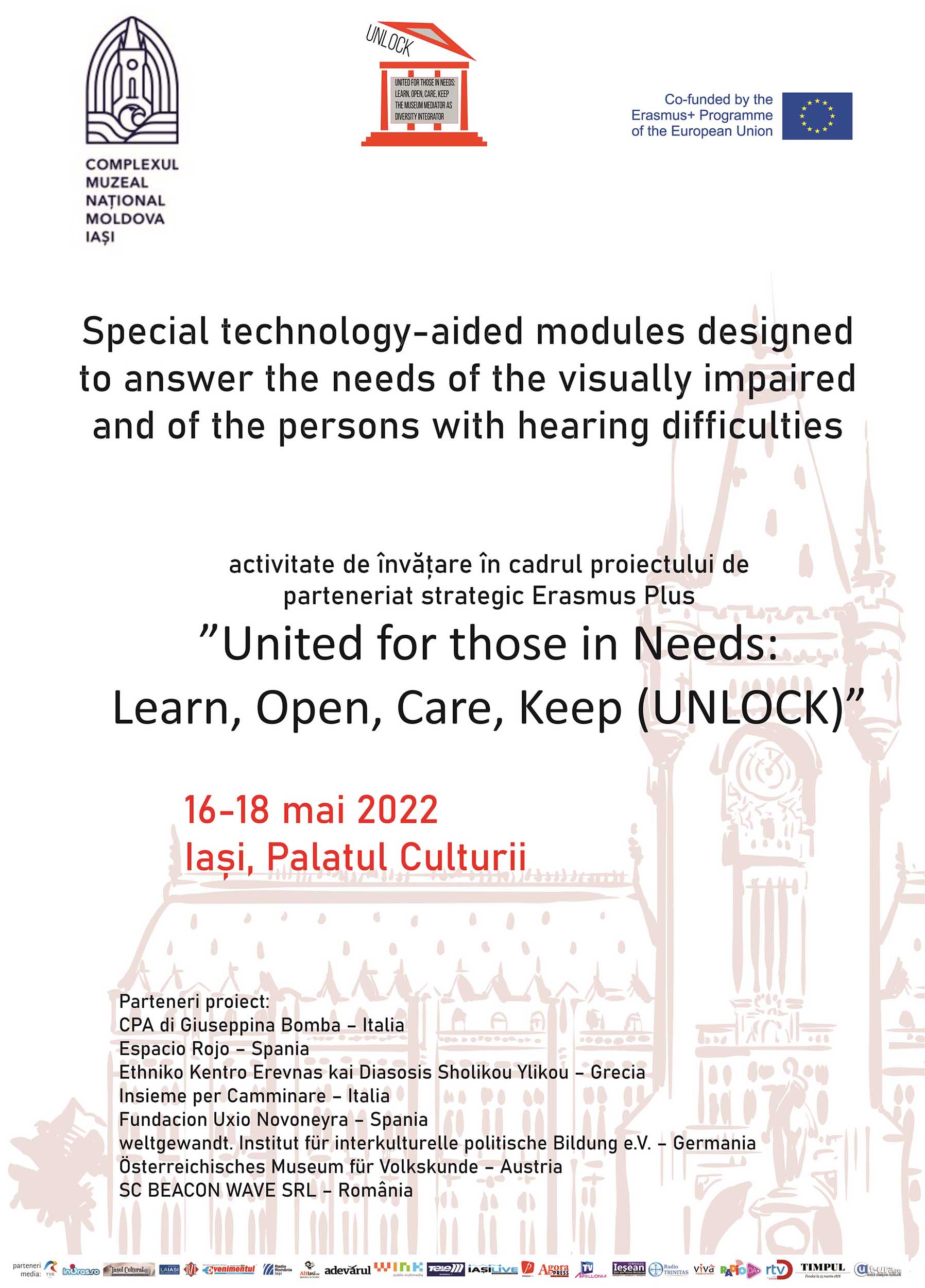 Eveniment UNLOCK "United for those in Needs: Learn, Open, Care, Keep – the Museum Mediator as Diversity Integrator"
Complexul Muzeal Național "Moldova" Iași, în colaborare cu șapte organizații din șase țări europene derulează, în perioada octombrie 2020 – septembrie 2022, proiectul de parteneriat strategic intitulat "United for those in Needs: Learn, Open, Care, Keep –  the Museum Mediator as Diversity Integrator" (acronim UNLOCK), finanțat de Uniunea Europeană prin programul Erasmus+, cod proiect  (2020-1-RO01-KA202-080188), domeniul Educație și formare profesională.
Proiectul se concentrează pe rolul muzeelor de vectori ai dezvoltării sociale, de catalizatori la nivelul comunităților în mijlocul cărora activează și are ca obiectiv furnizarea de experiențe muzeale adaptate nevoilor specifice ale diferitelor categorii de vizitatori, pentru consolidarea incluziunii și evitarea oricăror forme de discriminare.
În acest context, în perioada 16 – 18 mai 2022, Complexul Muzeal Național "Moldova", cu implicarea activă a partenerului SC Beacon Wave SRL, organizează activitatea de învățare "Special technology-aided modules designed to answer the needs of the visually impaired and of the persons with hearing difficulties", care va reuni 28 de reprezentanți din toate țările participante.
Partenerii Complexului Muzeal Național "Moldova" în derularea proiectului sunt: CPA di Giuseppina Bomba – Italia, Espacio Rojo – Spania, Ethniko Kentro Erevnas kai Diasosis Sholikou Ylikou – Grecia, Insieme per Camminare – Italia, Fundacion Uxio Novoneyra – Spania, weltgewandt. Institut für interkulturelle politische Bildung e.V. – Germania, Österreichisches Museum für Volkskunde – Austria, SC BEACON WAVE SRL-D – România. Mai multe detalii despre proiect se găsesc la adresa unlockproject.ro
Manager,

Drd. Valentina Druțu

Șef Secție Relații Publice,

Dr. Coralia Costaș