Expoziția: Servirea mâncării, între medieval și modern
Locul desfășurării: Muzeul de Istorie Casa Altemberger, curtea interioară (Str. Mitropoliei, Nr. 2)
Durata: 20.07 – 31.12.2018
Curatori: dr. Raluca Teodorescu, dr. Dana Hrib, dr. Raluca Frîncu
Fotografie: Alexandru Olănescu
Prelucrare grafică: Chris Balthes
Expoziția face parte din proiectul "Bucătăria la curtea princiară a Transilvaniei în secolul XVI", co-finanțat de Administrația Fondului Cultural Național
Expoziția prezintă, prin intermediul a 16 panouri, o istorie pe scurt a evoluției veselei și tacâmurilor folosite în spațiul european, la trecerea dintre medieval și modern.
De la servirea mâncării pe felii de pâine uscată, până la folosirea vaselor speciale pentru păstrarea temperaturii calde sau reci a mâncării, poveștile cuprinse în această expoziție urmăresc evoluția cuțitului de la armă-tacâm la stadiul de cuțit de masă, materialele alese în producerea lingurilor sau povestea Cenușăresei tacâmurilor – furculița, a cărei folosire generalizată a reușit abia în era industrializării.
De asemenea, narațiunea expoziției urmărește felul în care statutul social este subliniat prin intermediul achiziționării și folosirii instrumentarului de masă.
Sunt prezentate piese din argint, cositor, cupru și oțel din colecțiile Muzeului de Istorie Casa Altemberger, datate în secolele XVI – XIX, mai puțin cunoscute sau care nu au fost expuse până la această dată.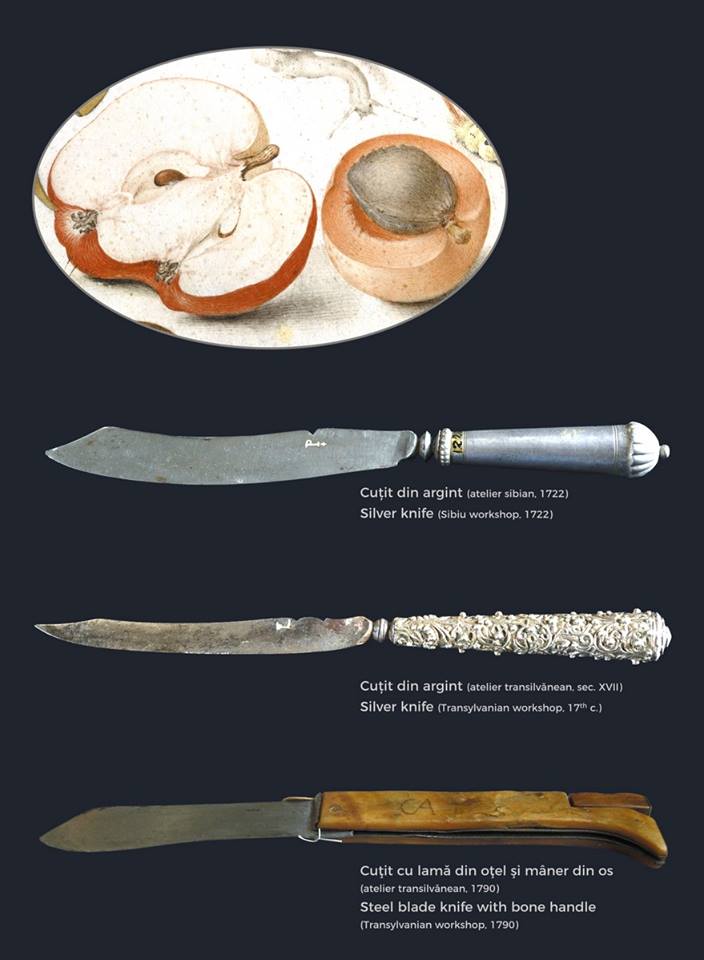 /EN/
Exhibition: Food serving, between medieval and modern
Location: The Altemberger House Museum of History, inner courtyard (Mitropoliei Street, No. 2)
Duration: 20.07 – 31.12.2018
Curators: Dr. Raluca Teodorescu, Dr. Dana Hrib, Dr. Raluca Frîncu
Photography: Alexandru Olănescu
Graphic Processing: Chris Balthes
The exhibition is part of the project "Cuisine at the Princely Court of Transylvania in the 16th Century", co-financed by the Administration of the National Cultural Fund
The exhibition presents, through the means of 16 panels, a brief history on the evolution of the dishes and cutlery used in the European space, at the crossing between medieval and modern.
From serving meals on slices of stale bread, to using special dishes for keeping the warm or cold temperature of the food, the stories of the exhibition follow the evolution of the knife from the white weapon to the table knife, the materials chosen for the production of the spoons or the story about the Cinderella of cutlery – the fork, whose generalized use only succeeded in the era of industrialization.
Also, the narrative of the exhibition follows the way in which the social status is underlined through the purchase and use of tableware.
There are presented silver, tin, copper and steel items from the collections of the Altemberger House Museum of History, dating back to the 16th-19th centuries, objects that are less known or have not been displayed until this date.