Acest eveniment a trecut.
București: Halloween la MNAC | Atelier de sculptat dovleci (pentru familii)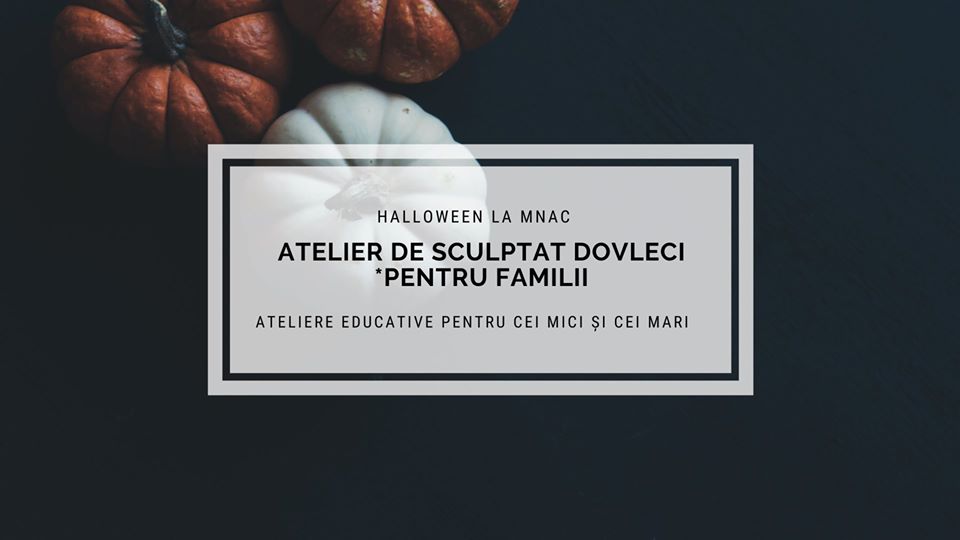 For English please scroll down.
/RO: Muzeul Național de Artă Contemporană te invită să descoperi expozițiile și proiectele speciale din cadrul muzeului, adaptate pentru toate vârstele, în cadrul programului de evenimente educative Weekend la MNAC.
Atelier de sculptat dovleci cu Mălina Ionescu
Când: miercuri, 30 octombrie, între 18:00-20:00.
Pentru: familii
Acces: 30 lei. Costul biletului include și vizitarea muzeului pentru adulții însoțitori.
Evenimentul este deschis tuturor celor care vor să participe fără să fie necesară o înscriere în prealabil. Materialele nu sunt incluse. Este recomandat ca fiecare echipă să-și aducă propriul său dovleac.
Înscrieri la educatie@mnac.ro.
Miercuri, 30 octombrie, invităm părinți și copii să colaboreze în echipe în cadrul unui atelier tematic de sculptat dovleci de Halloween.
Alături de Mălina Ionescu, coordonatoarea programului de educație MNAC, ne vom folosi iscusința pentru a descoperi moduri noi de a sculpta cele mai interesante forme pentru o lampă de poveste.
/EN: The National Museum of Contemporary Art invites you to discover the exhibitions and special projects within the museum, adapted for every age, in the frame of the Weekend at MNAC Bucharest series of educational workshops.
Pumpkin Carving Workshop with Mălina Ionescu
When: Saturday, October 30, between 6:00 – 8:00 PM
For: families
Acces: 30 lei. The price includes a museum visit for the accompanying adults.
The event is open for all and does not require prior registration. It is recommended to bring your own pumpkin, as materials are not included in the price.
Registration at educatie@mnac.ro.
On Wednesday, October 30, we invite parents and children to collaborate in teams in the frame of a themed pumpkin carving workshop.
Together with Mălina Ionescu, MNAC Education Programme coordinator, we will use our skills to discover new ways to sculpt the most interesting shapes and build a holiday lamp to remember.