Acest eveniment a trecut.
București: Nu o lua personal la Muzeul Național de Artă Contemporană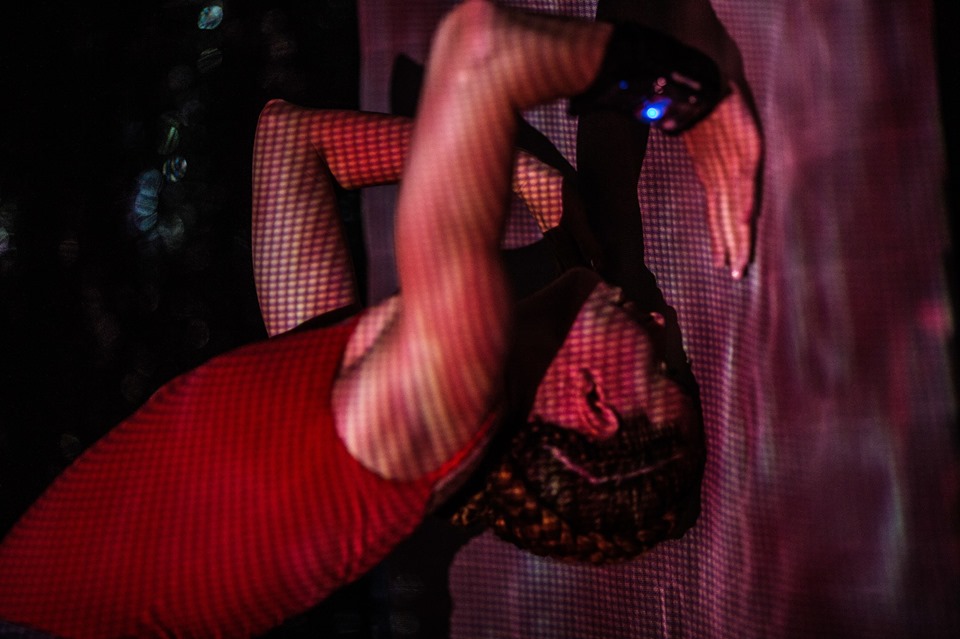 [for EN please scroll down]
"Zilnic trecem printr-o serie de emoții, mai mult sau mai puțin nuanțate – bucurie, frică, tristețe, mânie, surpriză, dezgust – stări ale corpului, așa cum le percepem mental. Dar ce facem cu ele, într-o lume în care suntem îndemnați să despărțim rațiunea de afect? Cât de mult ne negăm emoțiile în încercarea de a păstra echilibrul în situații stresante, într-un mediu tehnologizat, în continuă și rapidă schimbare? Ce ecou au în corpul nostru experiențele de zi cu zi, ce alegem să păstrăm din ceea ce trăim, ce ignorăm și ce exprimăm?" Irina Marinescu
"Nu o lua personal" este o invitație într-un spațiu în care emoția devine mișcare, sunet, culoare. Separat și împreună, propunerile celor cinci artiști care colaborează în proiect, antrenează imaginația și corpul într-o experiență imersivă care își propune să ofere perspective despre somatizare. Fiecare propunere are o consecință imediată, dar nu o lua personal.
Performance-ul creat de Irina Marinescu va avea loc pe 6 și 7 noiembrie la Muzeul Național de Artă Contemporană, de la orele 19.00 și 20.00. În fiecare zi vor avea loc două reprezentații, cu un număr maxim de 25 de persoane/reprezentație.
Nu o lua personal
Un performance despre eventualitatea emoțiilor
Concept și interpretare: Irina Marinescu
Scenografie: Alexandra Panaite
Visuals: EZA – Alina Ușurelu
Muzica: Alexandros Raptis
Sound design & interaction design: Ștefan Damian
Producătoare: Laura Trocan
"Nu o lua personal" este un proiect produs de Asociația Developing Art. A fost prezentat într-o primă variantă work in progress în cadrul unei rezidențe artistice oferite de Fundația Gabriela Tudor în parteneriat cu Centrul de Cultură "George Apostu" Bacău, în luna mai 2019.
Un proiect co-finanţat de Administraţia Fondului Cultural Naţional. Proiectul nu reprezintă în mod necesar poziţia Administrației Fondului Cultural Național. AFCN nu este responsabilă de conținutul proiectului sau de modul în care rezultatele proiectului pot fi folosite. Acestea sunt în întregime responsabilitatea beneficiarului finanțării.
Parteneri: Festivalul Vizual Amural, Centrul Național al Dansului București (CNDB), CESI (Centrul de Excelenţă în Studiul Imaginii), UNATC I.L.Caragiale prin CINETic (Centrul Internațional de Cercetare și Educație în Tehnologii Inovativ Creative), La Firul Ierbii – Centru pentru Dezbateri și Inițiative Civice, Muzeul Național de Artă Contemporană (MNAC)
Parteneri media: Modernism.ro, Feeder.ro, Gala Societății Civile
Irina Marinescu s-a îndrăgostit iremediabil de dansul contemporan în 2009. De atunci a studiat diferite limbaje de dans și forme ale artelor performative, a conceput și coordonat proiecte culturale interdisciplinare precum Up Stairs,iar din 2017 este co-fondatoare a asociației Developing Art. Colaborează cu artiști din diferite domenii pentru a crea contexte în care ingredientele principale sunt conexiunile autentice, experimentul și emoțiile.
Alexandra Panaite a absolvit UNATC la Facultatea de Teatru, secția Scenografie cu o licența (in 2012) și un masterat (in 2015). Încă din 2014, ea a lucrat constant la filme de lungmetraj, scurtmetraje, spectacole de teatru, videoclipuri și publicitate. În primii ani după absolvire, a lucrat la mai multe scurtmetraje unde si-a dezvoltat propriul stil și metodă de a lucra. În această perioadă a început să colaboreze cu regizorul Bogdan Theodor Olteanu, colaborare ce s-a transformat într-un parteneriat artistic prolific. O parte din filmele la care au lucrat în această perioadă sunt: "Duminică dimineață", Lampioane chinezesti", "Dumneavoastră, tu". În 2016 a colaborat cu studenții Universității de Teatru și Film din Budapesta la scurtmetrajul "Romanian Sunset" regizat de Visky Abel. În 2018 debutează cu două filme de lungmetraj precum "Câteva conversații despre o fată foarte înaltăl" regizat de Bogdan Theodor Olteanu și "Să nu ucizi" regizat de Gabi V. Șarga and Cătălin Rotaru. Alexandra colaborează constant cu teatrele din țară, în special cu cele din capitală (Teatrul Național București, Teatrul Național Craiova, Apollo111, etc.) unde semnează decorul și costumele pentru spectacole precum: "Taximetriști" și "Cea mai călduroasă zi/" scrise și regizate de Bogdan Th. Olteanu, "Tatăl meu preotul" de Gabriel Sandu și "Dragoste în patru tablouri" de Lukas Barfuss , regizor Elena Morar, "Eden" de Eugene O'Brien, regizor Cristina Giurgea, "Exploziv" de Elise Wilk și "Pulverizare" de Alexandra Badea, regizor Andrei Măjeri.
Alina Ușurelu (EZA) este artist vizual în București. Colaborează cu membrii comunității de dans contemporan din Romania de 6 ani. Pe lângă fotografie de dans și performance, creații video pentru promovarea și documentarea proiectelor artistice contemporane, Alina își dorește să dezvolte producția de film de dans în România și lansează propuneri multimedia inovative către coregrafi și dansatori. În toamna anului 2016 lansează primul film experimental de dans, Up Stairs și începe să faciliteze cursuri de imagine. În 2017 începe proiectul Exposing Movement cu alte 3 artiste vizuale și 3 coregrafe. În 2019 este selectată în programul PACAP (program avansat pentru creație și arte performative) la Forum Danca – Lisabona și începe să creeze și să interpreteze spectacole de dans, instalații și performance-uri cu artiști internaționali.
Născut în 1989 în Grecia, Alex Raptis lucrează în domeniul artelor spectacolului. Principalele sale arii de interes sunt regia de teatru, light design-ul și compoziția muzicală. Licența în Artele Spectacolului a obținut-o la UNATC "I.L.Caragiale" în 2012, iar apoi a urmat Masteratul de Sound & Light Design din cadrul aceleiași universități. Din anul 2014, creează light design-ul sau muzica pentru performance-uri, concerte de jazz și teatru. Cel mai recent spectacol regizat este SuperOK, de M.Moroianu. Alte spectacole în care s-a implicat sunt – Plastic de M.Mayenburg (r. Cristian Popescu), Nok!Nok! de Nicoleta Lefter, Counterbody de Simona Deaconescu și Vara în care mama a avut ochii verzi de T.Țîbuleac(r. Nicoleta Lefter). Locuiește și lucrează în București, dar se implică și în proiecte din alte orașe sau țări. Face muzică electronică împreună cu Andrei Raicu, în formula Al'iikhwa Ra.
Ștefan Damian – sound designer, compozitor și audio programmer, predă sound design la câteva dintre programele masterale ale CINETic / UNATC, unde în prezent finalizează lucrarea de doctorat referitoare la interactivitate sonoră în mediul performativ. Anterior a absolvit masteratul MA Sonic Arts în cadrul SARC al Queen's University Belfast, iar experiența sa profesională provine din variate proiecte muzicale, cinematografice și instalații sonore la care acesta a lucrat. Printre interesele sale se numără sinteza de sunet, spațializarea sonoră, interactivitate și muzică electroacustică.
//EN
"Every day we go through a series of emotions, more or less visible – joy, fear, sadness, anger, surprise, and disgust – states of the body as they are perceived mentally. But what do we do with them in a world in which we are encouraged to separate reason from affect? How much do we deny our emotions, while trying to keep the balance in stressful situations, in a technological environment that is continuously and rapidly changing? What echo do every day experiences have in our body, what do we choose to keep from what we live, what do we ignore and what do we express?"
Irina Marinescu
"Don't take it personally" is an invitation in a space where emotion becomes movement, sound, color. Separately and together, the proposals of the five artists that collaborate in this project engage body and imagination in an immersive experience that sets out to offer perspectives about somatization. Each proposal has an immediate consequence, but don't take it personally.
The performance will be presented on November 6 and 7 at the National Museum of Contemporary Art Bucharest. There will be 2 performances per evening, starting for 19.00 and 20.00, with a maximum of 25 persons/performance.
Don't take it personally
A performance about the eventuality of emotions
Concept & interpretation: Irina Marinescu
Scenography: Alexandra Panaite
Visuals: EZA – Alina Ușurelu
Music: Alexandros Raptis
Sound design & Interaction design: Ștefan Damian
"Don't take it personally is a project produced by the Developing Art Association. It has been presented in a work in progress version within an artistic residency offered by the Gabriela Tudor Foundation in partnership with the Cultural Center "George Apostu" in Bacău, in May 2019.
A project co-financed by the National Cultural Fund Administration (AFCN)
The project does not necessarily represent the position of the National Cultural Fund Administration. AFCN is not responsible for the content of the project or the way the project results can be used. They are entirely responsible to the beneficiary of the funding.
Partners: Visual Amural Festival, UNATC I.L. Caragiale through CINETic (International Center for Research and Education in Innovative Creative Technologies), The National Dance Center Bucharest (CNDB), CESI (Center of Excellence in Image Study), La Firul Ierbii, National Museum of Contemporary Art (MNAC)
Media partners: Modernism.ro, Feeder.ro, Gala Societății Civile
Irina Marinescu fell in love with contemporary dance in 2009. Since then, she has studied various forms of dance and performative dance, has conceived and coordinated cultural projects, such as Up Stairs, and from 2017 she is a co-founder of Developing Art association. She collaborates with artists from various backgrounds to create contexts where authentic connections, experiment and emotions are the main ingredients.
Alexandra Panaite graduated from UNATC with a BA (in 2012) and an MA (in 2015) in Stage and Costume Design. Ever since 2014, she has been consistently working on feature films, short-movies, theatre plays and commercials. In the first years after graduating, she worked on short films to develop her own unique method and style. Now was when she started collaborating with Bogdan Theodor Olteanu, collaboration that turned into a fruitful artistic partnership. Some of the short movies they worked on are: "Duminică dimineață/Sunday Morning", "Lampioane chinezesti/Chinese Lanterns", "Dumneavoastră, tu/I don't know which Maria". In 2016 she worked on "Romanian Sunset" directed by Visky Abel working with the graduating students of Budapest University of Theatre and Film Arts. In 2018 she debuts with two feature films as "Câteva conversații despre o fată foarte înaltă/Several conversations about a very tall girl" directed by Bogdan Theodor Olteanu and "Să nu ucizi/Thou shall not kill" directed by Gabi V. Șarga and Cătălin Rotaru. She constantly works with theaters throughout the country, particularly in the capital ( National Theatre Bucharest, National Theatre Craiova, Apollo 111 etc.) where she signed the set design and the costumes design for plays as: "Taximetriști/Taxi Drivers" and "Cea mai călduroasă zi/The Hottest Day" written and directed by Bogdan Th. Olteanu, "Tatăl meu preotul/My father the priest" by Gabriel Sandu and "Dragoste în patru tablouri/Love in four seasons" by Lukas Barfuss , director Elena Morar, "Eden" by Eugene O'Brien, director Cristina Giurgea, "Exploziv" by Elise Wilk and "Pulverizare" by Alexandra Badea, director Andrei Măjeri.
Alina (EZA) is a visual artist based in Bucharest. She collaborates with members of the contemporary dance community in Romania since 6 years. In addition to dance and performance photography, video creations for the promotion and documentation of contemporary artistic products, she wants to develop the production of video-dance in Romania and launches innovative multimedia proposals with dancers and choreographers. In the autumn of 2016, she released her first experimental dance film, Up Stairs, and began facilitating image courses. In 2017 she started Exposing Movement project with three other visual artists and three choreographers. In 2019 she was selected at PACAP (advanced program in creation and performative arts) at Forum Danca – Lisbon and began to create and perform dance pieces, performances and installations with international artists.
Born in 1989 in Greece, Alex Raptis works in the performing arts domain. His main interests are directing, light design and music composition. He obtained his BA in Performing Arts at UNATC "I.L.Caragiale" (Bucharest) in 2012 and his MA in Sound & Light Design in 2014. Since then, he has been creating the light design and/or music for several performances, jazz concerts and theatre plays. His most recent theatre show is SuperOK, by M.Moroianu, which he directed. Other shows that he has worked for are – Plastic by M.Mayenburg (dir. Cristian Popescu), Nok!Nok! By Nicoleta Lefter, Counterbody by Simona Deaconescu & Vara în care mama a avut ochii verzi by T.Țîbuleac (dir. Nicoleta Lefter). He lives and works in Bucharest, but is also involved in projects in other countries/cities. He also composes electronic music together with Andrei Raicu under the performing duo Al'iikhwa Ra.
Ștefan Damian – sound designer, composer and audio programmer, teaches sound design at some of the masters' programmes at CINETic / UNATC, where he is currently finishing his PhD thesis on sound interactivity in performance media. Previously he has been awarded a masters' degree in Sonic Arts from SARC – Queen's University Belfast, while his professional experience comes from various music, film and installation projects that he has been involved in. Some of his interests include sound synthesis, spatial sound, interactivity and electroacoustic music.