Acest eveniment a trecut.
București: Suprarealismul lui René Magritte cu Irina Cangeopol. Atelier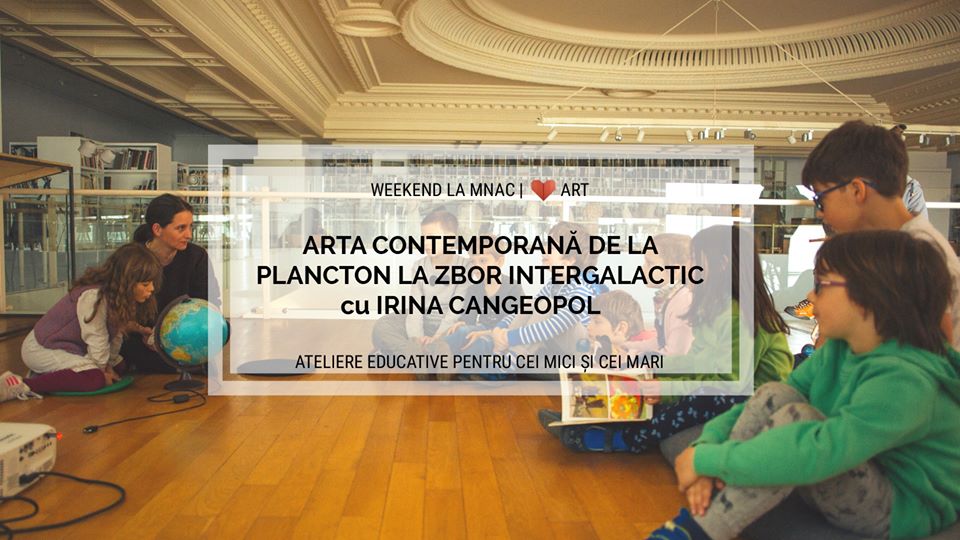 Please scroll down for English.
/RO: 🧡ART — Arta contemporană de la plancton la zbor intergalactic este o serie de ateliere care ne ajută să înțelegem expoziția Colecției MNAC, "Văzând Istoria. 1947-2007", dar și de unde vine și se hrănește arta contemporană, în general.
Suprarealismul lui René Magritte cu Irina Cangeopol
Când: sâmbătă, 30 noiembrie, între 11:00-13:00, în limita a 20 locuri disponibile.
Pentru: copii cu vârste cuprinse între 5-14 ani.
Acces: 30 lei de persoană / atelier. Costul biletului include și vizitarea muzeului pentru un adult însoțitor.
Achiziționează în regim de abonament 3 ateliere, iar al patrulea este gratuit. Acestea se pot procura la casa de bilete a muzeului și au valabilitate nelimitată.
Înscrieri via e-mail, la educatie@mnac.ro.
Continuăm seria educativă pentru copii cu un pictor reprezentativ pentru curentul suprarealist, belgianul René Magritte. Fiul unui croitor bogat, René François Ghislain Magritte, a fost interesat de artă de la o vârstă fragedă, începând să ia lecții de desen de la vârsta de 10 ani, dar se va dedica picturii abia după terminarea stagiului militar, la 23 de ani.
Ca student la Academie Royale des Beaux-Arts din Bruxelles, tânărul Magritte realiza copii după opere celebre ale lui Picasso, Tițian sau de Chirico. Acesta din urmă va avea o influență majoră în arta lui Magritte, care după vederea picturii "Cântecul iubirii" de Chirico va înțelege că important este nu cum să pictezi ceva, ci mai ales ce anume trebuie să fie pictat. Astfel, el a ajuns să urmărească combinații de obiecte care să redea gândul poetic, misterul care poate fi redat prin elemente banale ale realității, precum o umbrelă, o pălărie sau un măr. "Vreau să creez un mister, nu să îl rezolv", spunea Magritte, citat de The Guardian. Citeste mai mult: adev.ro/pbepow
Formatul atelierului este de două ore, cu o prezentare în imagini a operei lui Magritte, o sesiune de pictură suprarealistă și, la final, un tur ghidat de Irina Cangeopol prin expoziția colecției muzeului Văzând Istoria 1947-2007.
Irina Cangeopol este artist, profesor de artă și specialist în educație culturală prin arte vizuale, cu experiență în proiecte și programe destinate copiilor de toate vârstele. A coordonat proiectul de educație prin artă "Mișcare și culoare", laureat al Galei Societății Civile 2018, la secțiunea Artă și Cultură.
/EN: 🧡ART — Contemporary Art from plankton to intergalactic travel is a series of workshops to help understand the MNAC Bucharest Collection, "Seeing History. 1947 – 2007", as well as the sources that foster and nourish contemporary art, in general.
René Magritte's Surrealism with Irina Cangeopol
When: Saturday, November 30, between 11:00 AM-1:00 PM, in the limit of 20 available places.
For: children aged 5-14.
Access: 30 lei per person/workshop. The ticket price includes the visit to the museum for an accompanying adult.
Buy a 3 workshop unlimited validity subscription, and you get the fourth one for free. Payment is made at the museum ticket office.
Registration via e-mail, at educatie@mnac.ro.
We continue our educational series for kids with a representative painter of the Surrealist movement, Belgian René Magritte. Son of a rich tailor, René François Ghislain Magritte was interested in art from a young age, starting drawing lessons at around 10. However, he will only dedicate himself to painting after finishing his military service, at 23.
As a student of Academie Royale des Beaux-Arts in Bruxelles, young Magritte realized copies after famous works by Picasso,
Tiziano Vecellio, or de Chirico. The latter was of a major influence in Magritte's art who, after seeing "The Song of Love" by de Chirico will understand that it not important how you paint something, but what you paint. Therefore, he searches for combinations of objects that give a voice to poetic thought, the mystery that can be shown through common elements from everyday reality, such as an umbrella, a hat or an apple. "I want to create a mystery, not to solve it", said Magritte, quoted by The Guardian. Read more here: https://www.theguardian.com/artanddesign/2015/feb/23/rene-magritte-like-standup-comedian-charlie-skelton.
The format of the workshop is two hours, with an image presentation of Magritte's work, a Surrealist painting session, and, in the end, a guided tour led by Irina Cangeopol through the museum's collection exhibition, Seeing History 1947-2007.
Irina Cangeopol is an artist, art teacher and specialist in cultural education through visual arts, experienced in programs and projects for children of all ages. She coordinated the art education project "Movement and Color", laureate at the 2018 Civil Society Gala, the Arts and Culture Section.