Acest eveniment a trecut.
București: Weekend la MNAC | Istoria artei contemporane românești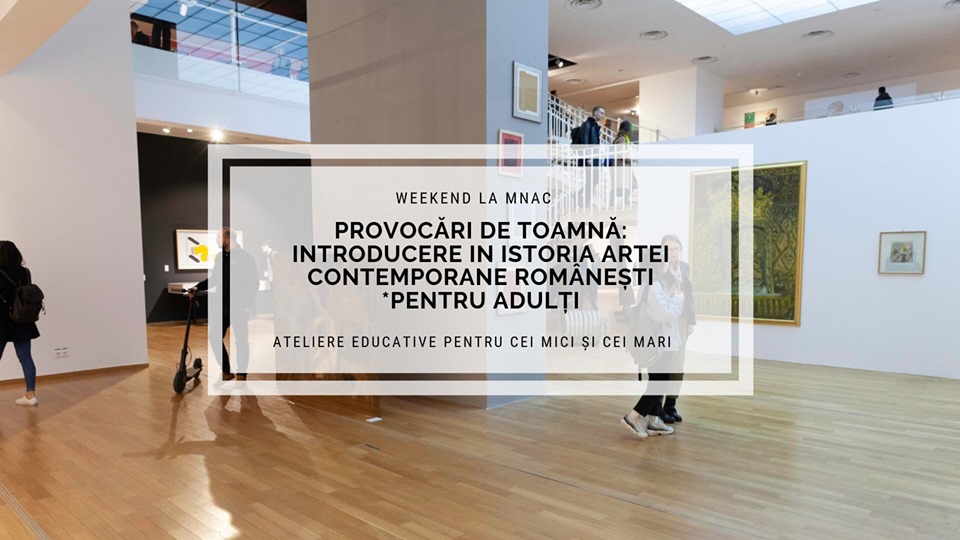 For English please scroll down.
/RO: Muzeul Național de Artă Contemporană invită copiii și familiile să petreacă toamna descoperind atât colecția muzeului cât și moduri de expresie creative, adaptate tuturor vârstelor.
Dacă vrei să afli care sunt unele dintre principalele medii prin care s-a manifestat arta contemporană românească in ultima jumătate a secolului al XX-lea și începuturile secolului al XXI și dacă vrei să experimentezi tu însuți cu acestea, vino la MNAC, sâmbăta între 12:00-14:00, de-a lungul unui modul de 4 ateliere dedicate.
Vom aborda cunoașterea mediului de lucru al unor artiști, folosind în același timp referințe la niște concepte cheie cu care opereaza arta contemporană. Analiza și discuțiile de grup asupra lucrărilor din expoziția colecției muzeului vor fi completate de exerciții practice.
E de dorit ca participanții să fie prezenți la toate cele 4 ședințe pentru că vom construi pe cunoștințele obținute, și de asemenea vom conta pe dinamica grupului pentru a îndrăzni să facem exerciții interesante în condiții de siguranță și sprijin reciproc.
PROVOCĂRI DE TOAMNĂ
Introducere in istoria artei contemporane românești, prin intermediul colecției permanente MNAC, "Văzând istoria, 1947-2007" alături de Delia Popa
Pentru: adulți, 16+.
Ședința I – Performance Art: sâmbătă, 12 octombrie 2019, între 12:00-14:00.
Ședința II – Arta Video: sâmbătă, 26 octombrie 2019, între 12:00-14:00.
Ședința III – Arta instalaționistă: sâmbătă, 9 noiembrie 2019, între 12:00-14:00.
Ședința IV – Desen și pictură contemporană: sâmbătă, 23 noiembrie 2019, între 12:00-14:00.
Preț: 30 lei de persoană / atelier. Achiziționează în regim de abonament 3 ateliere, iar al patrulea este gratuit. Acestea se pot procura la casa de bilete a muzeului și au valabilitate nelimitată.
Înscrieri via e-mail, la educatie@mnac.ro, în limita a 20 locuri disponibile.
Delia Popa este artist și pedagog de artă. Este membră fondatoare și președinta Asociației ArtCrowd – Artiști în educație, o organizație care dezvoltă gândirea critică, gândirea creativă și capacitatea de a lucra în echipă la copii și adolescenți. Trăiește și activează la București.
www.deliapopa.com
/EN: The National Museum of Contemporary Art invites children and families to spend autumn days engaged in creative activities that will have them discover both the museum's collection, as well as various creative means of expression, adapted to every age.
If you are interested to find out which are the main mediums for Romanian contemporary art in the second part of the XXth century and the beginning of the XXIst, as well as experiment with them yourself, join us at MNAC Bucharest on Saturdays from 12:00-2:00 PM, for the course of a four-class art module.
We will approach the work environments of certain artists using references to key concepts in contemporary art. The analysis and group discussions on works of art will be completed by practical tasks.
It is recommended that participants enrol for the entire 4 class module, as we will build upon the curriculum and will depend on group dynamics to dare dive into interesting exercises in a safe and encouraging environment.
AUTUMN CHALLENGES
An introduction into Romanian contemporary art history, through the MNAC collection exhibition "Seeing History, 1947-2007", with Delia Popa
For: adults, 16+.
Workshop I – Performance Art: Saturday, October 12, 2019, between 12:00-2:00 PM.
Workshop II – Video Art: Saturday, October 26, 2019, between 12:00-2:00 PM.
Workshop III – Installation Art: Saturday, November 9, 2019, between 12:00-2:00 PM.
Workshop IV – Contemporary Drawing and Painting, Saturday, November 23, 2019, between 12:00-2:00 PM.
Access: 30 lei per person / workshop. Buy a 3 workshop subscription, and you get the fourth one for free. Payment is made at the museum ticket office and have unlimited validity.
Registration via e-mail, at educatie@mnac.ro, in the limit of 20 available places.
Delia Popa is a visual artist and art educator. She is a founding member and president of the ArtCrowd – Artists in Education Association, an organization that develops critical thinking, creativity and teamwork programs for children and teens. She lives and works in Bucharest.
www.deliapopa.com