Acest eveniment a trecut.
Sibiu: Expoziția ETERNA întoarcere. Artist: Dumitru Radu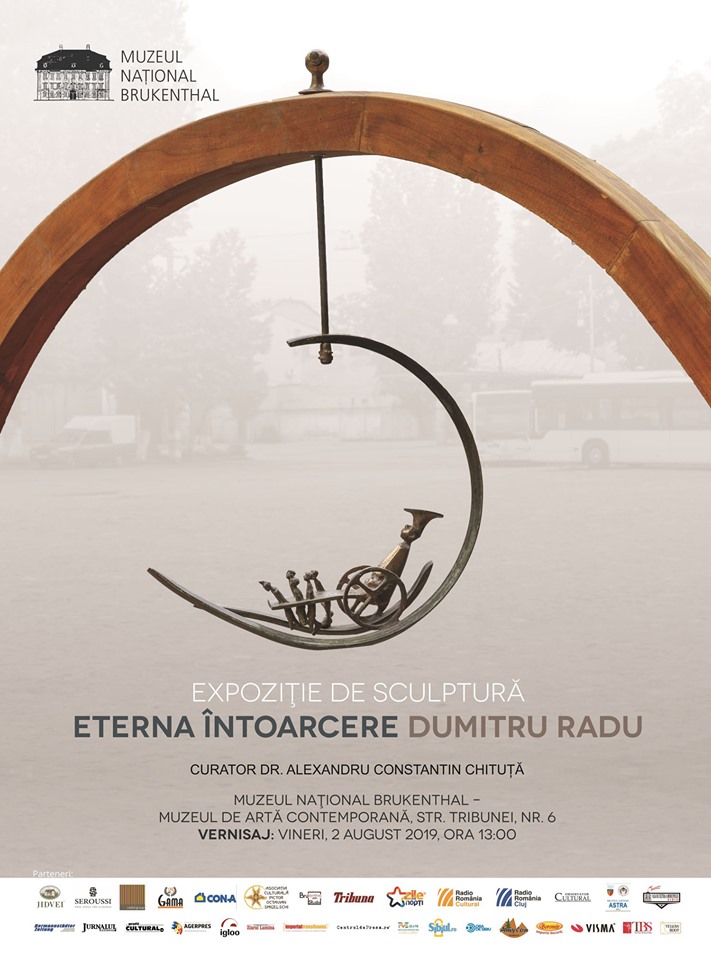 Expoziția ETERNA întoarcere
Artist: Dumitru Radu
Loc de desfășurare: Muzeul de Artă Contemporană
Durată: 2.08. – 31.09. 2019
Vernisaj: vineri, 2.08. 2019, ora 13.00
Curator: dr. Alexandru Constantin Chituță
Suflet răscruce, Dumitru Radu este un sangvin melancolic – sau, dacă vreți, un coleric fantast, deopotrivă contemplativ și ziditor. Un meșter insuflat de ethosul tradiției dar și un artist profund implicat în contemporaneitate și în modernitatea târzie. Știe să lucreze cu lemnul dar totodată și cu distrugătorul acestuia, cu focul în care topește și modelează metalul. Lucrează deopotrivă cu compasul, echerul, dalta și mistria și citește umanitatea nu doar în termenii tradiției creștine, ci și ca pe o caravană de persoane care mânate de trompeta solului ceresc încearcă să meargă pe drumul sinuos al fericirii, al eternității. De multe ori în sculptura lui Dumitru Radu se întâlnește spirala sau roata ca o reflexie și o analogie la roata vieții care se cuprinde în cele două coordonate nașterea și moartea. În acest sens, călătoria întoarcerii în sine, poate motivul cel mai drag lui Dumitru Radu, trebuie citită ca un drum prin viață, coborâre în sine pentru ca mai apoi să existe o ascensiune celestă. Călătorie inițiatică, rătăcire și cale întru renaștere prin întoarcere la valoare, spirit și frumos.
Dumitru Radu etalează subtil existența omului în univers și căutarea acestuia în drumul său, în actul privirii, în actul trăirii. Evidenta sinceritate a artistului reprezintă implicit invitația adresată corpului și sufletului să zăbovească, să mediteze, să coboare și să se înalțe totodată de la prezentul teluric și până în misteriosul univers.
/EN/
The Eternal Return Exhibition
Artist: Dumitru Radu
Location: The Museum of Contemporary Art
Duration: 2.08. – 31.09. 2019
Opening: Friday, 2.08. 2019, at 13.00
Curator: dr. Alexandru Constantin Chituţă
A soul at crossroads, Dumitru Radu is a melancholic bloody – or, if you want, a fantastic choreographer, both contemplative and edifying. A craftsman inspired by the ethos of tradition but also an artist deeply involved in contemporary and late modernity. He knows how to work with the wood but also with its destroyer, with the fire in which he melts and shapes the metal. He works both with his compass, the echer, the chisel, and the trowel, and reads humanity not only in terms of Christian tradition, but also as a caravan of people driven by the trumpet of heavenly soil trying to walk on the sinuous road of happiness and eternity. Many times in the sculpture of Dumitru Radu the spiral or the wheel is encountered as a reflection and analogy to the wheel of life that encompasses in both coordinates the birth and the death. In this sense, the journey of return itself, perhaps the dearest reason for Dumitru Radu, must be read as a way through life, descending itself and for later to have a celestial ascension. An initial journey, wandering and a path to rebirth by turning to value, spirit and beauty.
Dumitru Radu subtly portrays the existence of man in the universe and his search in his way, in his act of gaze, in the act of living. The obvious sincerity of the artist is implicitly the invitation to the body and soul to linger, meditate, descend and ascend from the present tellurian to the mysterious universe.